Induni 5-16th April 2009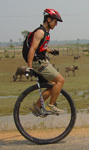 "Happiness is when what you think, what you say, and what you do are in harmony."

Mahatma Gandhi



In April 2009, seven unicyclists from around the world will embark on a 500km journey through Northeastern India, on the simplest mode of transport ever invented, the Unicycle. Follow their adventures as they traverse this rich and varied land, from the mountainous peaks of the Himalayas, to the steaming plains near Bangladesh, and the tea-growing region of Darjeeling. Watch as they are chased across the country by laughing children, the toots and waves from passing motorists, and the inevitable tangle of limbs from an impromptu unicycle lesson.
News
9 May 2011
I've finally put together a slideshow of our Induni advenuture.
Enjoy!


25 May 2009
This is probably our last and final update from Induni. Have a look at how much fun it was riding through the Himalayas on one wheel!
Here are a couple of photo albums from Nathan and Geoff:

Nathans Album

Geoffs Album

The photos are shared, so both albums have similar photos. Nathans Album has nice captions, whilst Geoffs Album has more photos. The best of Induni Gallery will be available on Adventure Unicyclist shortly. Enjoy!
16 April 2009
What would a unitour be without the local media chasing us across the country? Here is a TV clip from the India National news. Sorry it's in Hindi!



The Calcutta Telegraph were amongst a few local newspapers who a chat with us: http://tinyurl.com/d98oup
Not a bad article really. And yes, we really averaged 35km/hr! Curry is powerfood!



15 April 2009
Induni is over! We had a wonderful time and it was sad to finally come to the final day of the tour. We celebrated with the end of our tour in the Himalayan town of Darjeeling.
The tour went pretty smoothly, with no major injuries or illnesses to speak of, just tired limbs, a few saddle sore, and memories that will last a lifetime. Updates of the final few days of the tour will follow shorly, so keep an eye on the blog. Sorry the internet connection here in India is fairly temperamental!
10 April 2009
The tour is well an truly underway! We've had lot's of kids chasing us across the country, and curious locals taking photos of us as we ride past. We have gone from the hot and crowded lowlands, to picturesque tea plantations in the foothills, and we are now in the Himalayas. In fact, there are many tired legs from yesterdays' 2000m ascent to the mountain town of Lava. Here is a video from earlier in the tour. Our first lunchbreak:



28 March 2009
Only a few days till our riders fly out to India!
We have updated the riders page...unfortunately a few people had to pull out, a few others joined in, but all up with have a nice group of riders around the world, namely France, Australia, New Zealand and the US of A.
Now what to pack on a ride? Camera...check, pump...check, gloves...check, passport...check! Laptop...check. Ding ding bell....check :o)
Keep an eye out on the blog...we'll get updates online wherever there is an internet connection available.
3 Dec 2008
Hello again to all Induni riders and supporters. This is the fourth Unitour that Adventure Unicyclist has been involved in, and I'm happy to announce that we finally have the Adventure Unicyclist.com website up again. It was previously a personal website, but is being remade as a general Touring/MUni website. There will be plenty of useful articles for those of you intrepid unitourists going up in the next few months. If you would like to contribute, we'd love to have photos, stories, and articles on anything Adventure Unicycling related. There will be a forum for discussing AU stuff going up shortly. Check us out: Adventure Unicyclist
If you are still interested in coming on Induni, you only have one month left to register. We MUST have final numbers by 1 Jan, as accomodation in India requires confirmed bookings. Please contact me as soon as possible if you are thinking of coming on Induni. I know I say it with every tour, but it's definitely a one off experience....it may be many years before you get to ride across India on a unicycle again!
22 Oct 2008
Only six months to go before Induni! Still a bit early for training, but our Induni riders are getting plenty of riding in! We still have plenty of places left, but if you are interested in coming on Induni, please let me know as soon as possible. It helps us finalise accomodation and support arrangements. Just a note...Induni is not limited to unicyclists. I'm still keen to get a few people on Penny Farthings ride across India with us! Also, partners or family on bikes are most welcome. There are several rider profiles up on the riders page, along with photos and description of the unicycles they will be using on Induni.
The other big news is that Jason Williams, our Grasshopper Tour leader, finally tied the knot with his longtime partner Fhon. They honeymooned in Luang Prabang, a place familiar to those of you who were on the Laos Unicycle Tour . Here are some of their photos: http://tinyurl.com/6hpxy4
Also tying the knot, Irene Genelin and Andy Cotter, both famous unitourists who were on our Uninam Unicycle Tour earlier this year.
Congratulations to both couples!!!
17 Sept 2008
Ok, we have our first riders signed up. We still have to get the profiles online, but keep an eye on the riders page over the next few weeks and you'll see some familiar faces coming on tour. I've also added various India and Unicycle touring links. Let me know if you know of any good info or links that I can put up on the site. If you haven't already, check out this years Uninam Unicycle Tour. It gives you an idea of what to expect on Induni. Also, for those of you who came on our first Unicycle tour, The Laos Unicycle Tour 2006 , I have finally got the website back online after the domain expired last year.
3 Sept 2008
Hi everyone, welcome to the India Unicycle Tour 2009. I know it's been a long time coming, but I'm slowly getting the website online. You'll have to be patient, because I've decided that I'm going to do it properly. Which essentially means I'm trying to figure out all this html stuff as I go.