Induni 2009: The India Unicycle Tour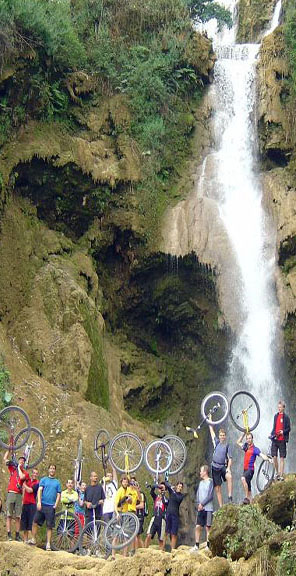 What is Induni?
The Induni Unicycle Tour is a cycle tour of North-eastern India done on unicycles. In April 2009, twenty four unicyclists from around the world will embark on this epic 500km ride near the borders of Bangladesh, Nepal and Bhutan.
Why?
Unicycling allows you to travel across a country and experience it like no other mode of transport. It is the simplest and most environmentally friendly vehicle ever invented, with next to no carbon emissions. Unitourists typically travel at about 15-20km/hr, the perfect speed to enjoy the scenery whilst still being able to traverse long distances. Best of all, barriers are broken down when visitors and local people do not speak the same language.
Is this a joke?
No, many unicycle tours have been done in the last few years, including tours of Laos, New Zealand, Denmark, Switzerland, and parts of Europe and the United States. With the advent of large 36inch wheeled unicycles, and more recently, geared unicycles, people have found that they can travel similar distances to bicycle tourists, without the complexity of these two wheeled contraptions.
Who would do such a thing?
Check out the rider profiles. Most of us are reasonably normal people. Once you've travelled on a unicycle, there is no going back to regular bus or bicycle touring.
Who came up with this crazy idea?
The tour is organised by Ken Looi, of Adventure Unicyclist, in conjunction with Jason Williams of Grasshopper Adventures.









Route and Itinerary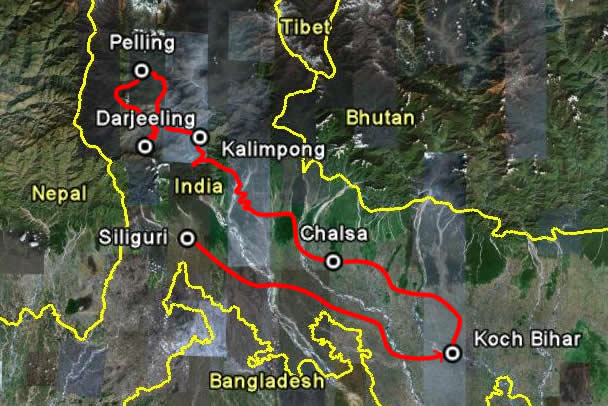 *map courtesy of Grasshopper Adventures


Dates
Sunday 5 April 2009 (Day 1) to Thursday 16 April (Day 12)
Description
Our tour takes us to the north east of India to a fantastically diverse region that borders Bangladesh, Bhutan, Nepal and China, each of them never more than 100 miles away. This diversity is reflected in both the landscape, which ranges from the steaming plains near Bangladesh, to the world's 3rd highest mountain, Kanchenjunga, but it is also evident in the people and religions we'll see. Bengali teapickers, Bhutanese religious sculptors, Nepali corn vendors and Tibetan prayer flags are all to be found at this confluence of cultures. All this contrast makes for plenty of legwork, and starting in the plains, we'll work our way up through to the foothills until we're close enough to the snow-capped peaks of Sikkim that it'll feel like we can just reach out and touch them.
---
Day 1 | Siliguri
The tour starts in West Bengal's second city Siliguri. We'll meet in the evening for our first meal and an introduction to the tour.
Days 2-4 | Lowland Riding
After a short transfer we'll commence the beautiful ride to the forgotten city of Koch Behar. The ride takes us through jute fields and rice paddies still farmed by ox-drawn carts, all within sight of the Bangladeshi border. The following day we have a chance to check out the Maharaja's grand palace and a bustling temple before continuing our one-wheeled journey through the lowlands to the tea fields of Chalsa. Day 4 is free to relax by the pool, wander amongst the tea fields or take a jeep safari in the nearby Gorumara Wildlife Sanctuary; if we're lucky we'll spot bison, elephants and maybe even rhinos or leopards!
Days 5-7 | Riding to Kalimpong
Day 5 takes you on a long and challenging ride through the tea fields and up to the foothills of the Himalaya. We overnight at a simple hotel in a mountain village which enjoys stunning views. After the strenuous uphill the following day is a shorter ride to Kalimpong. The following day we have a rest day to enjoy the thronging market, take a hike or maybe visit one of the town's many orchid gardens.
Days 8-9 | Riding to Pelling
Our ride today takes us to the former Buddhist Kingdom of Sikkim. We overnight in Pemeyangtse, and then have a day's rest to appreciate the wonders of the region, whether that's taking a short walk to a nearby monastery, or just soaking up the splendor of some of the world's highest mountains.
Days 10-12 | Riding to Darjeeling
After our rest day we take a breathtaking ride through the mountains to the charming village of Kaluk, nestled deep in the mountains. Our last riding day is a gem, taking us down from the mountains, alongside the Rangbong River which divides Sikkim from West Bengal, and then through valleyside tea gardens before we transfer to vehicles for the unbelievably steep ascent to Darjeeling. Darjeeling is the world's premier tea producing town and is overrun with monuments to the Raj, but the greatest monuments belong to nature; the world's third highest peak, Kanchenjunga, is in plain sight of the town. The tour ends on day 12 - feel free to stay on in Darjeeling or perhaps join us for an optional trekking tour back in the big mountains of Sikkim.